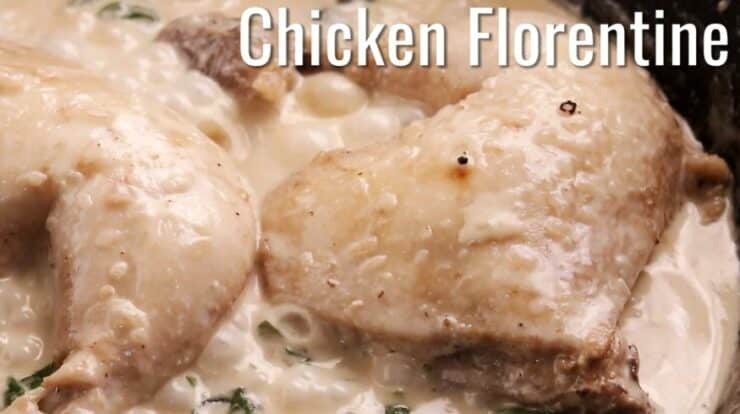 Are you looking for a keto chicken recipe that is both healthy and delicious? If so, this keto diet chicken Florentine recipe is perfect for you! This dish is packed with flavor and is sure to please even the most discerning palate. Plus, it's a great way to add some extra protein and nutrients to your diet. So what are you waiting for? Give this keto chicken Florentine recipe a try today!
Keto Diet Chicken Florentine Recipe
If you're looking for a delicious, healthy keto meal that will satisfy your cravings, look no further than this chicken florentine recipe! With just 5 ingredients and a few easy steps, you can have a mouth-watering keto dinner on the table in no time. Plus, this dish is high in protein and low in carbs, making it the perfect choice for those following the keto diet.
Preparation time: 5 minutes
Cooking time: 30 minutes
Servings: 1
Ingredients:
1 Chicken leg quarter
1 Tbsp Butter
1 Tbsp minced Shallots
1.5 cups Chicken Stock
2 Tbsp Heavy Cream
1 cup fresh Spinach
Salt and Pepper, to taste
Cooking Directions:
1) Melt butter in a pan then sprinkle shallots.
2) Add chicken on top of the shallots. Season with salt and pepper.
3) Add enough stock to barely cover the chicken. Bring to a simmer.
4) Cover and poach over low heat for 20-25 minutes.
5) Take chicken out of the pan and set it aside.
6) Reduce pan juices to approximately a quarter of a cup.
7) Add spinach and heavy cream. Simmer over low heat until sauce is slightly thick.
8) Return chicken into the pan.
9) Serve hot.
Nutritional Information:
Energy – 507 kcal
Protein – 53g (44%)
Fat – 30g (53%)
Carbohydrates – 4g (3%)