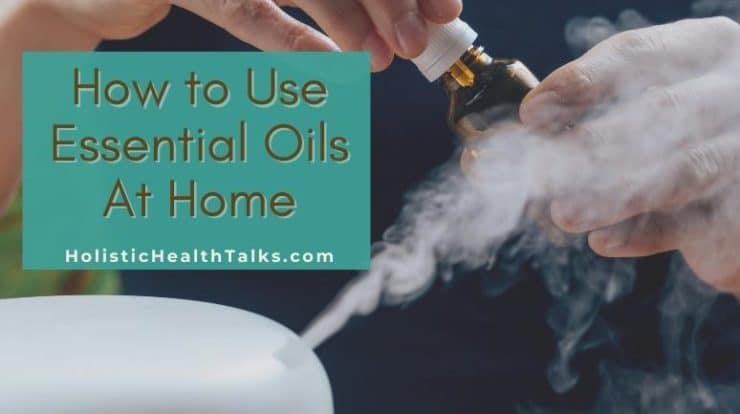 Do you know how to use essential oils at home? One such scent is that of lemon essential oil! This blog post will explore why it's worth trying essential oils for yourself and how it might benefit your life in general. Let's start by talking about what exactly aromatherapy does to our senses.
Essential oils are potent and can be used for a variety of purposes. They have a calming effect and promote general wellness by improving the mind, body, and spirit connection.
Ever wonder what the term "aromatherapy" means?  The word aroma comes from the Latin word meaning "to smell". Essential oils contain natural ingredients that provide relief from stress-related conditions like:
Depression
Insomnia
Headaches and Migraines
Some of these plant extracts also contain antibacterial properties too! This article will discuss what essential oils are, how they work, and best practices for using them for holistic health.
What are Essential Oils?
You might be asking yourself "what are essential oils?" Essential oils are powerful plant extracts that have been used for centuries. Essential oils can be used for many different purposes, from skin care to emotional well-being.
Just think of them as plant-based medicine that can help your body heal ailments from skin conditions like acne or eczema to stress relief, from calming down before bedtime to fighting off the common cold.
Essential oils are extracted by cold pressing or steam distillation. More recently CO2 extraction has been used to make essential oils.
How Are Essential Oils Made?
Essential oils are extracts of certain plants, fruits, and trees that have been extracted using a process called distillation. Because essential oils are so small, it is necessary to grow several pounds of plants to produce a small quantity for consumers. The essential oils are then distilled, refined, and packed in containers that preserve the fragrance and scent for a long time. Here is a list containing extracts and treatments that can produce essential oils suitable for aromatherapy or creams.
Steam Distillation
The oldest and most widely used method of distillation, steam distillation, is still in use today. This method has been used for centuries by aromatherapy practitioners. The steam chamber is used to heat fresh or dried plants. The steam is then put under pressure, and the steam is circulated through the plant material. The steam pressure causes the plant's cell structure to open, and essential oils are then poured into a container. This is a delicate process as the heat must not be too hot to cause damage to the delicate oil.
Once the steam and oil have been distilled into a container the steam turns to a liquid, while the oil forms a film at its top. Both the oil and the liquid are therapeutic by-products. Pure essential oil extract are used as essential oils. Cosmetic companies use the water from the distillation to make skin creams and toners, the water is sometimes called hydrosol.
Cold Pressing
Different processing methods are used to extract essential oils from citrus fruits like grapefruit, lemon, and lime. Essential oils are found primarily in the peel of fruits, so they must be penetrated. Peel is then rolled on a variety of sharp objects to cause it to burst. The oils are then extracted. The juice is then extracted from the fruit and squeezed. The essential oils are deposited on top of the juices in a film similar to steam distillation. The essential oils are then separated using centrifugations and placed in containers that can be used for aromatherapy and homemade products.
Solvent Extraction
Solvent extraction is the best and most cost-effective way to extract the plant's oil. This method uses a solvent to saturate and absorb oils. The plant is then saturated with a solvent and then absorbed the oils. The alcohol evaporates, leaving only the essential oils to be packaged. This is particularly useful for extracts that are more costly. Each plant must be squeezed to extract the maximum amount of extract. This method can be the most economical, but it can also leave solvent behind which could cause side effects.
Video: How Essential Are Essential Oils?
Aromatherapy is a method of natural healing that uses plant extracts to improve our health and well-being. In this video we provide a general overview of aromatherapy providing the different types of essential oils, their health benefits, side effects and methods of application. This video highlights the research limitations of testing the efficacy of aromatherapy, and its uncertainty to cure illnesses. This video is meant to educate and help decide if aromatherapy is suitable for you.
How Do Essential Oils Work?
A lot of people are curious about how essential oils work and why they are so popular. The most well-known use of essential oils comes from aromatherapy, using the scent as medicine.
Did you know that essential oils can be inhaled? The process is safe, natural, and can provide a great way to enjoy your favorite scents. Here are some of the benefits of inhaling essential oils:
Essential oils work by going through your skin and then entering your bloodstream, which means you need to be careful not to get any in your eyes or mouth! They also can interact with other medications you might be taking, so talk to a doctor if you're unsure about what's safe for you.
There are many different kinds of essential oils, and each type has a slightly different effect on the body.
7 Tips on How to Use Essential Oils At Home
Essential oils for aromatherapy can be inhaled for many different purposes or put into a diffuser to make your home smell good. They can also be applied topically on the skin! It's amazing how something so small can create such a big impact on our health and wellness.
Here are some ways that you can use them at home:
Refreshing Scent: Diffuse some peppermint oil when your kids are home from school for a nice, refreshing scent.
Improved Sleep: Put lavender on your pillow at night and inhale deeply before going to bed. It will promote relaxation so you can sleep better.
Energized Morning Routine: Apply citrus oils like lemon or grapefruit in the morning after showering to energize yourself and get ready for a great day!
Improved Mood. Inhaling certain scents such as lavender or peppermint has been shown to improve mood and reduce anxiety levels.
Clearer Breathing Passages. Oils like eucalyptus have antiseptic properties which help clear out the respiratory system when used in a diffuser.
Soothing Sore Muscles and Joints. Oils like wintergreen work well for soothing aching muscles from over-exertion or injury due to their anti-inflammatory properties, add to unscented lotion and apply to the sore muscles.
Relieve Stress Naturally: Bergamot essential oil can help you feel better mentally and physically, just add a few drops to tissue and inhale throughout the day for a boost!
Share on Pinterest