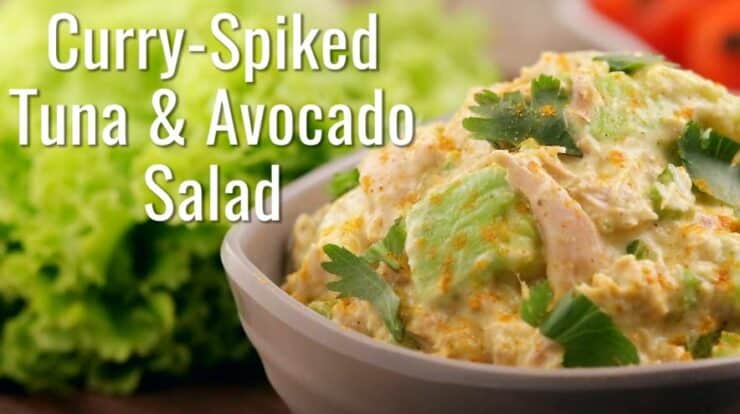 Are you looking for a healthy keto salad recipe that is both delicious and satisfying? This keto curry tuna and avocado salad recipe fits the bill! The combination of flavors in this dish is sure to please, and it's perfect for a quick and easy meal. Plus, it's loaded with healthy fats and protein, making it a perfect choice for those on the keto diet. Give this recipe a try today!
Can I Eat Avocados on a Keto Diet?
If you're following a ketogenic diet, you may be wondering if you can eat avocados. The answer is yes — avocados are a great keto-friendly food. They're high in healthy fats and low in carbs, making them a perfect fit for the keto diet. In fact, they're so keto-friendly that they can even help you stay in ketosis. So go ahead and add avocado to your next meal — it's a healthy and delicious way to get some extra nutrients into your diet.
Keto Curry Tuna and Avocado Salad Recipe
A delicious and healthy keto salad recipe that is perfect for a light lunch or dinner. The curry spiced tuna and avocado add flavor and nutrients to the mix. This salad is gluten-free, protein-rich, and low in carbs – perfect for those on a keto diet!
Preparation time: 5 minutes
Servings: 1
Ingredients:
6 oz Albacore Tuna, drained
1/4 cup Avocado, diced
2 Tbsp chopped Celery
2 Tbsp Mayonnaise
2 Tbsp Curry powder
Pinch of Salt and Pepper
Directions:
1) Whisk together mayonnaise, curry powder, salt, and pepper in a bowl.
2) Fold in tuna, avocado, and celery.
3) Serve over keto toast or rolled in fresh lettuce.
Nutritional Information:
Energy – 357 kcal
Protein – 44g (53%)
Fat – 17g (40%)
Carbohydrates – 6g (7%)
Spicy, flavorful, and full of healthy fats, this dish is sure to become a regular in your lunch rotation. Plus, it can be made in about 5 minutes – perfect for those busy days! Give it a try today.