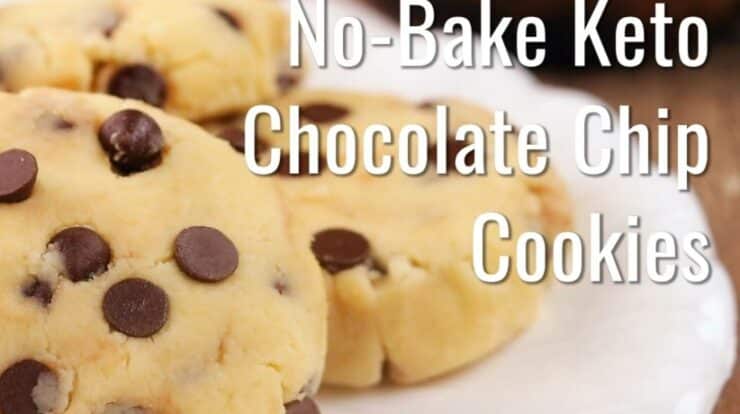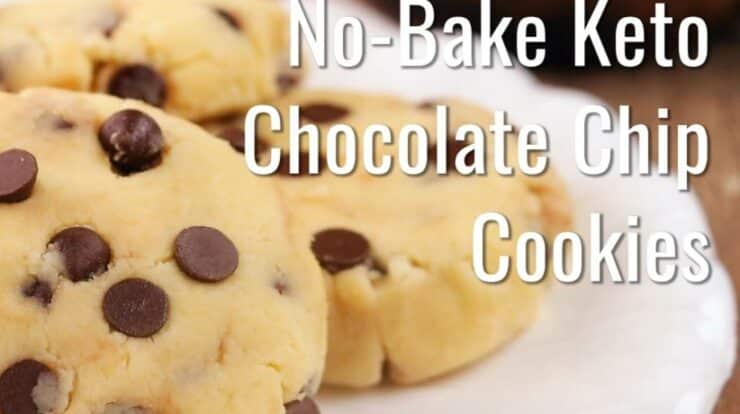 If you're on the ketogenic diet, you probably have sweet treat cravings once in a while. Luckily, these no-bake chocolate chip cookies allow you to indulge without feeling guilty. Made with almond flour, they're high in fat, low in carbs, and have no sugar to spike your blood sugar levels. Better yet, they're easy to make and can be ready in less than an hour.
Keto Chocolate Chip Cookies Recipe – Easy No-bake Dessert
When you're following a keto diet, it's more important than ever to stay satiated throughout the day. The high-fat, low-carb plan is already pretty restrictive, which means you can't go around snacking on all of your favorite foods. Which is why this recipe for keto no-bake chocolate chip cookies is going to be your new best friend. Not only are these cookies totally keto-friendly, but they're also free of refined sugar.
Can I eat desserts while on a keto diet?
Desserts are a vital part of any food culture, but they are hard to come by when you're on a low-carb keto diet. Fear not – we've got you covered with this amazing recipe. Whether you're craving something sweet or want to make a dessert for someone else, you can get your sweet fix and still stay on track with your diet.
What is in Keto Chocolate Chip Cookies?
Sugar-free chocolate chips
As you know, chocolate is a popular treat to indulge in but when you are on a diet this delicious treat usually must be avoided. The problem is that most chocolate chips contain sugars, which can quickly derail your diet efforts. But there is one way to get around this problem. Most sugar-free chocolate chips are made with erythritol. This sugar alcohol is a healthy alternative to sugar, and it can help you get the chocolate you crave without derailing your diet.
Almond flour
Almond flour is made from almonds and is low in carbohydrates so it is a popular choice for keto baking. On its own, it has a sweet and nutty taste that goes well with dense baked goods such as cookies and cakes. It can be used as a replacement for wheat flour in many recipes but does not work as a direct replacement. Many keto bloggers have baked with it before and if you search for the right recipe, you can try it for yourself.
Almond flour is a low-carbohydrate, high-fiber flour made from finely ground blanched almonds. It is also called almond meal when the almonds are ground very fine. Almond flour contains no gluten, so it is safe for those with gluten sensitivities. If you need gluten-free flour, you can make your own by blending or grinding almonds in your coffee/spice grinder.
Erythritol
Erythritol is a 4-carbon sugar alcohol that has 4 calories per gram. It's used in low-carb and keto recipes and has a glycemic index of 0. It can be used as a substitute for sugar in most recipes. You can find erythritol in a lot of low-carb or keto sweeteners, like Zsweet or Swerve.
Keto Chocolate Chip Cookies Recipe No-bake
Not every recipe has to be complicated to be good. This is a good example of a keto recipe that can be made in a few minutes, perfect for people whose diets are limited by time and personal preference.
Preparation time: 1 hour
Servings: 6 cookies
Ingredients:
4 oz Cream cheese, softened
2 oz Butter, softened
1 Tbsp Erythritol
1 tsp Vanilla Extract
1/3 cup Almond Flour
1/4 cup sugar-free Chocolate Chips
Directions:
1) Combine cream cheese, butter, erythritol, and vanilla extract in a food processor. Pulse until smooth.
2) Add in the almond flour and blend until into a smooth dough.
3) Fold the chocolate chips into the mixture.
4) Divide the dough into balls and gently flatten it into shape.
5) Chill until ready to serve.
Nutritional Information:
Energy: 136 kcal
Protein: 2.7g (8%)
Fat: 13g (87%)
Carbohydrates: 1.8g (6%)
Fiber: 0.7g
The popularity of the ketogenic diet has led to a plethora of low-carb, sugar-free products being introduced to the market. This mainly includes sweeteners, syrups, and artificial sweeteners. It seems that many keto dieters are concerned with getting the most out of their diet, and will often look for products that contain zero carbs or are sweetened with stevia.
While products can be found that fall into these categories, most of them tend to be very sweet and contain large amounts of sugar alcohols such as maltitol, which can cause digestive issues like gas and diarrhea. Because of this, most people with sensitivity to sugar alcohols find it best to avoid processed sugar-free products while on the diet.
Conclusion
This Keto Chocolate Chip Cookies recipe is a delicious no-bake dessert that is easy to make and low carb. With just five ingredients, these tasty cookies are sure to be a hit with the whole family. The cookie dough is made with almond flour and coconut oil, and the chocolate chips are sugar-free. This tasty treat is perfect for a sweet snack or dessert.
These Keto Chocolate Chip Cookies are a great low carb treat that can be enjoyed by everyone. And, since they're no-bake, they're easy to make without having to turn on the oven. Enjoy these delicious cookies as a sweet snack or as an easy dessert.