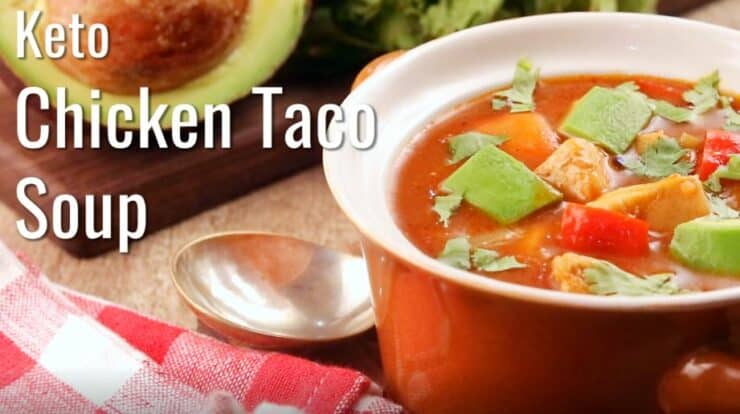 If you're following a ketogenic diet, you know that chicken is a great protein to include in your meals. This keto chicken taco soup recipe is a delicious and healthy way to enjoy your favorite Mexican dish. The soup is packed with flavor and loaded with healthy ingredients like chicken, bell peppers, and avocados. Whether you're on the keto diet or not, this chicken taco soup recipe is a delicious, healthy option for lunch or dinner. It's packed with protein and takes only 15 minutes to prepare.
Can I Eat Soup on a Ketogenic Diet?
Soup is a popular food among people who are following the keto diet. Many people believe that soup is not allowed on a keto diet, but this is not the case. There are many great soups that you can eat while following a keto diet. So, if you are looking for a new and tasty soup recipe to try out, read on!
Keto Chicken Taco Soup Recipe
Warm up with a bowl of keto chicken taco soup! Filled with healthy fats, protein and delicious Mexican flavors, this easy soup is perfect for a cozy night in. Plus, it's keto-friendly and low in carbs, making it the perfect meal for those on a ketogenic diet.
Preparation time: 5 minutes
Cooking time: 15 minutes
Servings: 1
Ingredients:
50g diced Chicken Breasts
2 Tbsp diced White Onion
1 Tbsp diced Red Bell Pepper
1 clove Garlic, crushed
1 Tbsp minced Jalapenos
1.5 cups Chicken Stock
1/3 cup sugar-free Tomato Sauce
1 Tbsp Olive Oil
2 tsp Taco Spice Mix
50g diced Avocado
Fresh Cilantro for garnish
Directions:
1) Sear chicken pieces lightly in olive oil.
2) Add garlic, onions, bell peppers, and jalapenos. Sweat until aromatic.
3) Add spice mix, stock, and tomato sauce. Simmer for 10-15 minutes.
4) Ladle into a bowl and top with avocados and cilantro.
Nutritional Information:
Energy – 300 kcal
Protein – 12g (16%)
Fat – 25g (74%)
Carbohydrates – 7g (9%)
Fiber – 4g