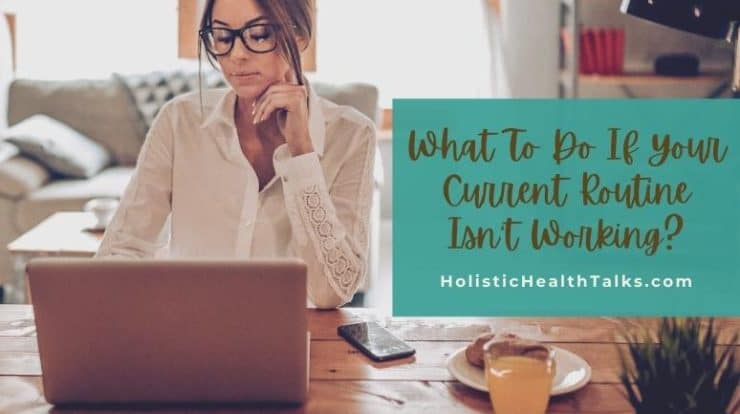 What should you do if your current routine isn't working? Do you see any signs that your current routine needs an update? It's possible to improve our lives by following a daily routine.
They aren't all created equal. There are many things that you might miss or make mistakes when creating your first routine. You may not be seeing the progress you desire in your routine, even though it worked initially.
Humans change and develop over time. Your current situation and your feelings will be completely different from what it was a year ago. What works initially may not work later on.
How to Tell If Your Current Routine Is Working or Not
Are you unsure if your current routine is effective? To help you determine if your routine is working for you, examine the signs, situations, or issues below.
1. The routine can be difficult to follow
It will be easy to find the right routine over time. All routines take effort at the beginning. Changes require time for the mind to adapt and learn new patterns. Consistent habits can take around 21 days to form. It is possible to have trouble for 21 days and still not get it right.
2. It's not worth it anymore
It can add a lot to your life when you start following a routine. You will feel more energetic, less stressed, and happier. It is easy to see the value in what you do.
You can change your routine if you don't see the value. You change over time and things that used to help you become less important. It is important to adapt your routine to your changing circumstances.
3. There's no room for spontaneity
While daily routines can help you stay organized, it is important to allow for some flexibility. You must be flexible with your routine because life is unpredictable. It will be difficult to stick to if you try too hard.
Keep the most important tasks of your day in your daily routine. Do not try to set a timetable for your day.
4. You find change more difficult now
A daily routine gives you structure. It should allow for flexibility. It's time to end if you are using your daily routine to prevent change.
People find that change can be more difficult when they are used to a routine. You may feel overwhelmed and stressed out if you get used to your routine. It is important to be open for change, so it may be necessary to modify your routine.
What To Do If Your Current Routine Isn't Working?
Routines should be modified over time to adapt to changing lifestyles and personal needs. There could be many reasons your daily routine isn't working. There are ways to improve your daily routine without giving up. If your current routine is not working, here are some suggestions.
Learn the Reason
If you can identify the reasons your current routine isn't working, it can be very helpful. Do you have a particular problem? You might need to exercise in the morning because of your daily routine. This could make you feel more tired than energized. This could make it difficult to continue with your daily routine.
You may have made some changes since the time you created your routine. You can make changes to your routine once you understand why it isn't working. You may have to make changes depending on the problem.
Tailor Your Routine
Are your current routines tailored to your specific needs? It could be the reason your routine isn't working. Many people make the error of copying someone else's routine. Some things might work for you, but others may not. You will fail every single time you try to follow someone else's routine.
If your routine is not yet tailored to your needs, you can spend some time customizing it. Take a look at what isn't working, and consider what you can do to fix it.
Explore Free Tools
There are many free tools available to assist in every aspect of your life. You could use time management tools if you have trouble managing your time, even if you follow a routine.
Anything that simplifies your daily routine is worth looking for. What can you do to simplify your daily tasks? You will have more time if you can use free tools to help you complete your daily tasks faster.
Incorporate Flexibility
It could be the reason your daily routine isn't working. Your routine should allow for flexibility. You can't be bored if you change it up every now and again. Boredom is the biggest killer of daily routines. Although there will always be monotony, routines can be modified to meet your personal preferences and daily needs.
Make Your Routine
What is your current method of recording your daily routine? You might be able to make your daily routine more efficient by changing it. Instead of using a list of tasks, you can schedule your routine in other ways. You are more likely to finish a task or routine if you have it scheduled in your life.
There are many options available to you if you feel your daily routine isn't working. You will change your needs and preferences over time. Make it a point to evaluate your routine every month and make adjustments to fit your needs. It will be easier to keep on track and modify your routines by making small adjustments as needed.
Share on Pinterest