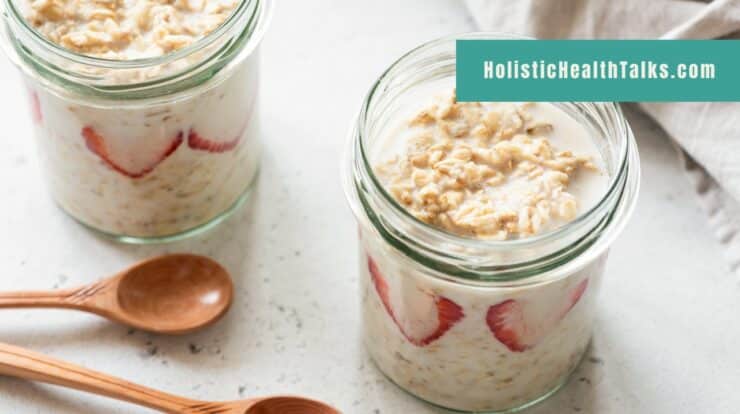 Do you know how to make Overnight Oats? Overnight oats are one of the easiest, healthiest, and delicious ways to start your day. If you're not familiar, overnight oats are made by mixing rolled oats with milk or water, and a sweetener of your choice, in a container and letting it soak in the fridge overnight. They're an easy way to get a healthy breakfast on the table in a hurry. Learn how to make the perfect batch of overnight oats! It's one of the easiest, no-cook breakfast recipes that will leave you with healthy grab-and-go breakfasts to enjoy throughout the week. Bonus – it's endlessly customizable!
If you love healthy breakfast ideas but don't want to do a whole lot of work in the morning, overnight oats were made for you. Honestly, it's as easy as stirring together a couple of ingredients in a jar, placing it in the fridge, and enjoying the next morning. Plus, you can meal prep overnight oats for the whole week!
How to Make Overnight Oats
► PRODUCTS MENTIONED:
Mason Jars
Organic Gluten-Free Oats
► TIMESTAMPS:
00:00 Intro
00:39 Best containers for overnight oats
01:16 Basic overnight oats recipe
03:37 Pina colada overnight oats
04:43 PB&J overnight oats
06:02 Strawberry protein overnight oats
07:04 Spiced pear overnight oats
08:09 Carrot cake overnight oats
09:06 Banana bread overnight oats
10:15 Taste test
Why Make Overnight Oatmeal?
Breakfast is the most important meal of the day, as many of us have probably heard throughout our lives. So why do so many of us skip it, or eat something that is unhealthy like fast food? The reasons are obvious: we don't have time, we are hungry, and we want something quick. One of the best ways to combat this is to have a morning meal that is nutritious, delicious, and super easy to make. One of the most popular ways to have a good morning meal is by making overnight oats.
As you may have guessed by the name, overnight oats are simply oats that are prepared and refrigerated the night before you plan on eating them.
What Ingredients are in Overnight Oats?
Overnight oats are the perfect breakfast, since all you have to do is add the ingredients and let them soak overnight! The ingredients are all easy to find, and each one offers a unique health benefit that will help you keep your body feeling strong and healthy.
The overnight oats is a food that consist of oats, like steel-cut oats, which are covered with liquid, such as milk. You can use a variety of different types of oats. My favorite has to be a combination of old fashioned oats and coconut milk. The old fashioned oats give the mix a little more texture and substance, while the coconut milk adds a hint of tropical flavor.
I didn't like all the sugar that most of the recipes call for, so I reduced the amount of honey I was using, and decided to add fresh fruit. That is what makes this breakfast food so great, you can use the ingredients you like.
Overnight oats with chia seed
Chia seeds are one of my favorite superfoods, and they're especially good for you in the morning. The seeds expand and form a gel-like coating when combined with liquid, which helps keep you full longer. They're loaded with fiber, calcium, and omega-3 fatty acids and are also high in antioxidants.
Since the oats soak up so much liquid, the result is a creamy, hearty cereal that tastes just as good as a regular bowl of oatmeal (and for many people, it even tastes better). You can also use this method to make other breakfast cereals, too, like Cream of Wheat and Cream of Rice.
Overnight oats are one of the fastest, easiest ways to eat whole grains, plus they're a convenient, grab-and-go breakfast. Cold cereal is a thing of the past with these creamy, protein-packed, fiber-filled, and antioxidant-rich oats.
Overnight oats with yogurt
Overnight oats have been all the rage lately in the health food world, and with good reason. These creamy, tasty little bowls are packed with nutritional goodies and make for a great, filling breakfast.
We've all heard how important it is to make sure we eat breakfast, but it's not always easy to remember when you're running late. These make-ahead oats make it simple to eat a healthy breakfast even on days when you're running on fumes. In the evening, stir together 1 cup of rolled oats, 2 tablespoons of honey, 1 cup of plain yogurt, and 1/4 cup of water. Cover and refrigerate overnight.
Overnight oats are a quick and easy way to start your day off on the right foot. Simply mix together rolled oats, a natural sweetener, and your favorite yogurt in the evening, then refrigerate overnight. The next morning, top with fruit, nuts, and seeds, and enjoy a healthy breakfast that will keep you full and energized until lunch.
Benefits of Overnight Oats
The benefits of overnight oats are numerous. For one, it's a great way to save time—especially in the morning. In just a few minutes the night before, you can make a big batch of oats to eat during the week. It is very easy to make this dish, you only need to add some yogurt and the flavorings of your choice and let it soak on the fridge overnight. This method allows the oats to absorb liquid and soften, and results in a creamy and thick texture. The overnight oats are an excellent source of fiber, in fact, this food is often recommended to people with digestive problems and constipation.
There are so many benefits to eating overnight oats for breakfast – no cooking, no mess and no time commitment! As a busy mom, I know that I need every single one of those benefits. Overnight oats are a lot more than just a way to have breakfast in the morning. They are an essential part of a balanced nutrition plan that will have you feeling full, satisfied, and energetic for hours. It's almost like having a meal on the go, minus the hassle of having to go out to a restaurant or grocery store. So, why not make a batch of overnight oats tonight?
Share on Pinterest