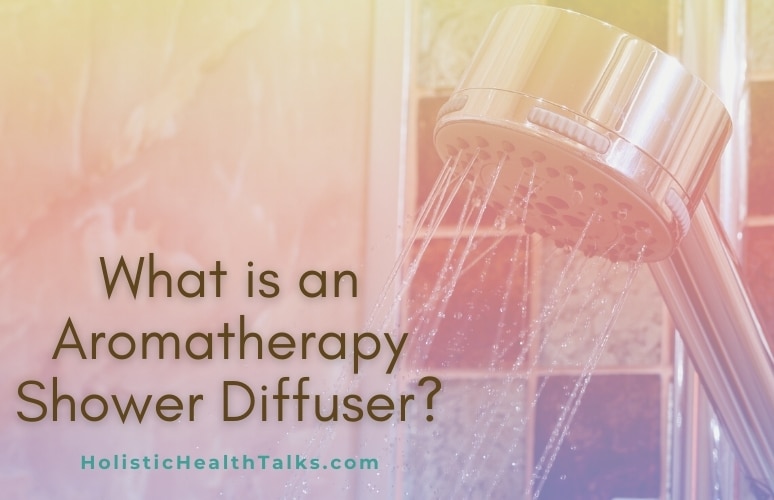 What is an Aromatherapy Shower Diffuser? If you love aromatherapy, then try adding it to your shower routine! Showering is already a truly calming experience, and adding in the extra benefit of essential oils in your shower routine can elevate a great shower to a perfect one. You easily can by adding essential oils to your shower experience.
Aromatherapy is one of the most popular holistic therapies in the world. It's also very simple to use. All you need is a few drops of your favorite oil and some hot water!
What is an Aromatherapy Shower Diffuser?
There are many ways to enjoy aromatherapy, but my personal favorite is with an Aromatherapy Shower Diffuser. This device releases essential oils into your shower or tub while you bathe, making for a relaxing experience that leaves you feeling clean and refreshed – so much so, that it can even help improve your mood!
There are a couple of devices aromatherapy shower diffusers on the market but I don't use them.
I find it easy enough to add essential oils directly to my shower. Keep reading for find out how you can too.
Aromatherapy Shower Benefits
Aromatherapy diffusers have many benefits, the most obvious of which is helping to calm your body down by releasing soothing smells into the air. If you do not have an essential oil diffuser, you can use your shower as a diffuser!
Naturally, adding essential oils to an already relaxing shower would be the ideal way to calm yourself down. You can achieve this perfect combination of a relaxing shower and essential oils by adding a few drops to your shower.
The steam and essential oils together will create a mist of your chosen scent in your aromatherapy shower. This will allow you to not only enjoy a fantastic shower, but also get the benefits of inhaling your essential oils at the same time.
The exact benefits of aromatherapy will depend on the oil you choose to use. Here are some benefits of using essential oils in the shower you may experience:
Open airways
Ease breathing
Reduce stress and tension
Inspire a positive outlook
Balance emotions
Take your showers to the next level by adding your favorite essential oils to cream an aromatherapy experience. Turn your shower into a calming steam of scent from your favorite essential oils, you will not regret it once you do.
How to Add Essential Oils to the Shower
An aromatherapy shower is so much more than just a way to make yourself smell nice. All you need is a little bit of water and two or three drops of essential oil, depending on what kind of scent you want.
The essential oil will help reduce stress and anxiety, while also boosting moods and giving skin an amazing glow! Plus all that steam means your pores are open for deep cleansing which can lead to clearer skin! So if you're looking for an easy way to add some self-care into your routine, this might be something worth trying out.
Step 1: Pick out your essential oil or oil combination to use
Step 2: Turn on water and get ready to get in.
Step 3:  Place 2-3 drops of essential oils directly to shower floor in an area that is not in direct line with water or to a shower soap dish if your shower has one (that's what I do). Once the oils are in the shower, step in to benefit from the aromatic mist.The shower steam will mix with the essential oil molecules and you will have a wonderful aromatic shower, enjoy!!
*Alternatively, you can place the essential oil drops on a wash cloth and then place washcloth on the shower floor.
Tips and Tricks to Using Essential Oils in the Shower
One of my favorite combinations is lavender and peppermint– not only does it provide a wonderful aroma, but they also promote relaxation and focus respectively. Besides using them in your shower, you can use them both in a diffuser or by adding drops of one or both into your shampoo or body wash.
Not only will an aromatherapy shower make the entire bathroom smell amazing, but these natural products have been shown to help with anxiety and depression.
If you're feeling a little blah, add some essential oils to your shower! You'll be glad you did!
DIY Aromatherapy Shower Steamers Recipe Video
Recently, I discovered shower steamers, a tiny pod that you can throw into your shower (either on your shower ledge or at the bottom of your tub) that will slowly dissolve with the steam of your shower and fill the bathroom with sweet aroma of whatever oils you choose to put into it.
Aromatherapy baths have been around for centuries, this DIY project is an easy way to gain the benefits of an aromatherapy bath without any hassle. Not to mention, they're completely non toxic, no worries having them around any little ones. In fact, if you have a restless kid, why not try giving them a shower with a lavendar infused steamer before bed time?
Share on Pinterest