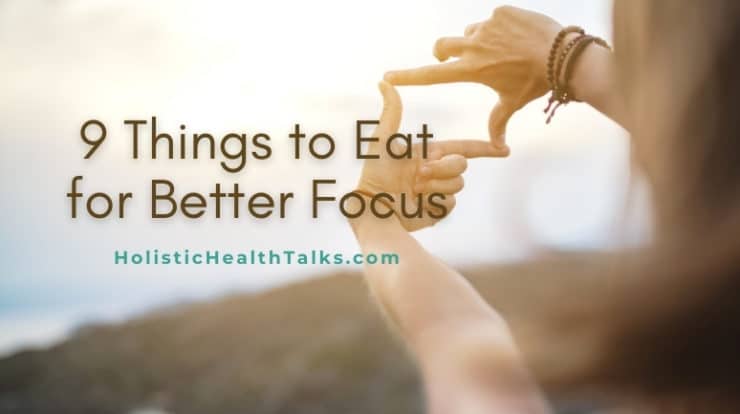 What are the things to eat for better focus? The building blocks of our bodies are food and the nutrients that they provide. The best way to ensure your mind is sharp and ready for the day is to properly fuel it.
We all have moments where we feel that our thoughts are scattered and unfocused. This can be frustrating when it happens during a meeting, in the middle of an exam, or at work. Thankfully there are things you can do to help your brain stay focused so it doesn't happen again!
9 Things to Eat for Better Focus
Here's what you should eat for better focus:
1. Blueberries
These delicious berries won't make you Violet Beauregarde. However, studies have shown that blueberries contain antioxidants which can improve memory and focus for hours.
2. Green Tea
This delicious drink will give you a boost in caffeine and L-Theanine. Combining caffeine and L-Theanine can improve alertness and focus, without the usual crash that occurs a few hours later.
3. Avocados
Avocados have been praised by social media users. Avocados are rich in good fats, fiber, and can increase blood flow and other flows. A happier and healthier brain means better blood flow.
4. Leafy Green Vegetables
Antioxidants, carotenoids and B-vitamins are all important. Each of these can help you focus and remember things. They also protect your brain from damage and give it nutrients after a hard day.
Leafy greens like spinach contain folate which is vital for improving concentration levels.
5. Fatty Fish
A serving of salmon, trout or sardines has been proven to improve memory and mental performance. It also helps with mood swings, fatigue, and other issues. This is due to the abundance of omega-3 fatty acid in many types of fish.
Omega 3s found in fish like salmon will help keep your brain healthy and functioning optimally.
6. Water
Water is the foundation of your entire body. Water intake can improve memory, focus, creativity, and mood. You should find the right amount of water you consume each day.
7. Dark Chocolate
It only takes one small cup of dark chocolate per day to reap the rewards. This decadent treat contains both magnesium and caffeine, which stimulates your brain and releases the feel-good hormones endorphins. Both will give you energy, focus and a positive outlook.
8. Flax Seed
These tiny seeds contain goodness like magnesium, B-vitamins and omega-3 fatty acid. The seeds can be ground to give your body the ability of fully digesting them and the mental clarity and focus they provide.
9. Nuts
Nuts have many health benefits. A one-ounce serving of nuts contains protein, vitamin E, and other amino acids. This will help you focus better throughout the day and reduce cognitive decline.
Walnuts, almonds, pistachios are high in omega 3 fats which support memory function and cognitive performance while also providing long lasting energy.
It can be difficult to find nutritious foods that are good for you. The latest superfoods are constantly changing. These 9 foods can be small additions that will allow you to reap the rewards of small changes.